About Us
About Safechem and the torkproducts.co.uk Website
a solution for every need
Established in January 1987 Safechem has been supplying chemicals and consumable products for over 20 years. We Manufacture and distribute throughout the UK and export worldwide from our purpose built plant at Birtley Co Durham.
Our ever expanding customer base ranges from Military and Government Agencies, through to many multi-national and Public Limited Companies, plus smaller privately owned and one man businesses.
The tork products site has been developed to meet the needs and requirements of commercial entrprises and industry both in the UK and abroad, providing one of the most comprehensive resources for the tork product range at extreemly competitive prices.
As a Company we place customer service and satisfaction at the top of our priority list. This commitment together with our understanding of technology plus our innovative and progressive approach to product development and service has contributed to the continued expansion of our Company.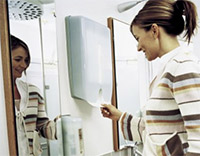 We are constantly developing and improving our product range, so that we can supply quality products at competitive prices. Our emphasis on research and development at our laboratories in Birtley allows new products to be quickly introduced to the market place, responding fast to customer requirements, changing legislation and market trends.
Quality products require quality service and our technical team, backed by an efficient after sales service, plus our own fleet of delivery vehicles assures the right products for the job are delivered on time.
Whichever way you prefer to contact us, through our technical sales team, our sales support office, phone, fax or internet, we assure you that your enquiry will be dealt with quickly and efficiently. For questions / advice on the full Tork Products range call our Tork dedicated sales manager John Hodgson on 0191 4108668..
Tork solutions offer more. The concept and value of the Tork brand go beyond product properties and performance - they focus on the total service offer. Tork solutions are a combination of quality tissue products and well-designed dispensers. These systems ensure that every customer can find a perfect match for his or her needs.