Tork Image Design - New Stainless Steel Dispenser Range
Tork Image Design
The New Stainless Steel Dispenser Range From Tork
If you work hard to make the right impression on your guests, your washrooms should do the same. And in a busy working environment, the last thing you need is washroom hassle. Everything has to run smoothly, effciently and with minimum maintenance. So we designed a complete line of dispensers to ft with your style and give your guests a great experience. Trust Image Design to keep your washrooms running smoothly  and your image sharp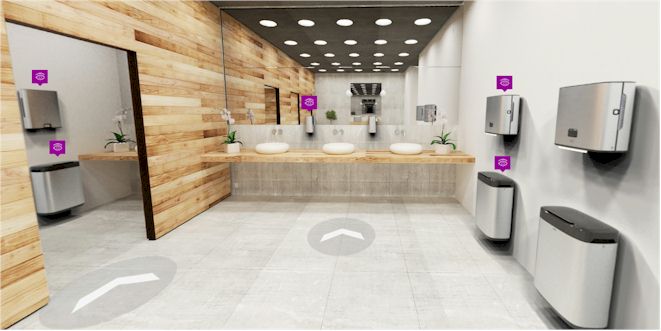 CLICK HERE TO VIEW THE NEW IMAGE DESIGN RANGE OF PRODUCTS
What constitutes a contemporary premium washroom?
When function is just as important as form, and neither can be compromised, Tork® a brand of SCA has created Tork Image Design™. This new dispenser line contributes to a premium ambiance, but with high-end functionality for users. And to identify what a premium washroom could and should be today and tomorrow, Tork has worked with Tengbom architects to define 10 key principles that provide guidance and inspiration. The principles are brought to life into a washroom concept called the "energizing contrasts" washroom.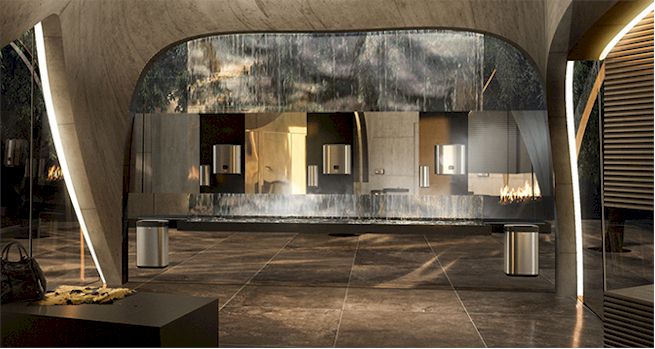 The strategy behind good washroon facilities.
Connecting to essential human needs
Creating a modern premium washroom design is about understanding the first principles of human needs. In this washroom, essential elements that connect to our most basic needs are highlighted. The memories of a flickering open fire, the sound of a splashing waterfall and the protection of a tree canopy, are hard wired into our human DNA. This makes us feel comfortable, relaxed and revived. Based on the same logic, the washroom lighting also follows our natural rhythm, where the light temperature is automatically adjusted to the time of the day.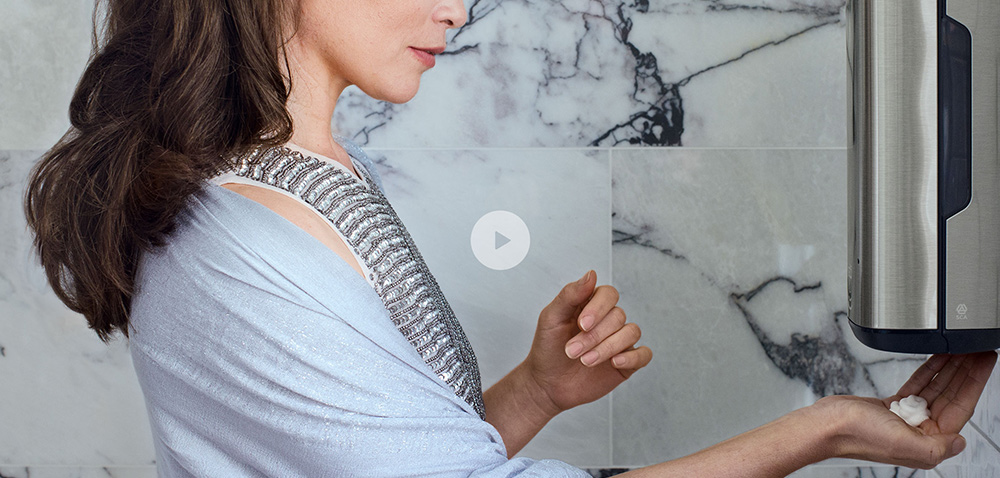 Energy boosts in everyday life
Our daily agendas are becoming more and more cluttered. It brings an increased need to refuel energy. As such, the washroom is designed to provide a boost of energy in everyday life. A washroom that provides an experience that stimulates visitors and offers a welcome break. That is why the design is built around unexpected elements that contrast. Contrasts provide energy and make visitors feel revived. For example, the shape of the contoured ceiling is sculptural, exciting and unexpected - contrasted by the shiny WC doors in hammered metal.
Opposites attract
Inspired by Tork Image Design™, the washroom elements contrast each other to create dynamism. Curves meet straight lines, burning fire meet flowing water and solid materials meet transparent glass. The light plays with the different materials and surfaces, bringing a sophisticated spectrum of tones and shadows. Contrasts also help organize the design and enable visitors to understand the washroom functionalities more directly. All together, contrasts create visual energy and add elegance to the washroom.
A social meeting place
The washroom is often the space that is left behind. This washroom is the complete opposite. It is designed to be a social meeting place - integrated with the rest of the facility. The washroom is spacious, open, accessible and gender-neutral to be welcoming for everyone.. The energy-boosting elements featured in the design stimulate people to meet and connect with each other. In addition, there are also specific features to spark interaction. For example, the stone bench is also a jukebox where visitors can select uplifting songs using integrated buttons on the seating surface. Bringing a communal sense of fun and joy.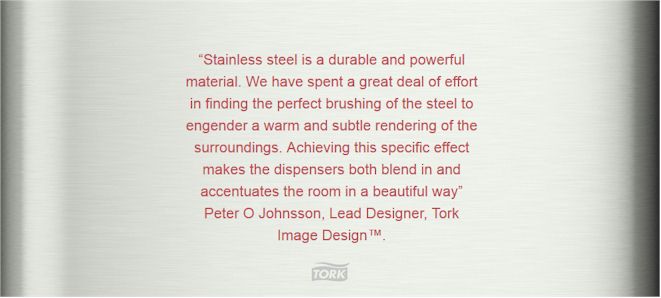 The Architects
Introducing Image Design™ by Tork